What Does an SEO Company really Do and How to Choose a Good SEO Company?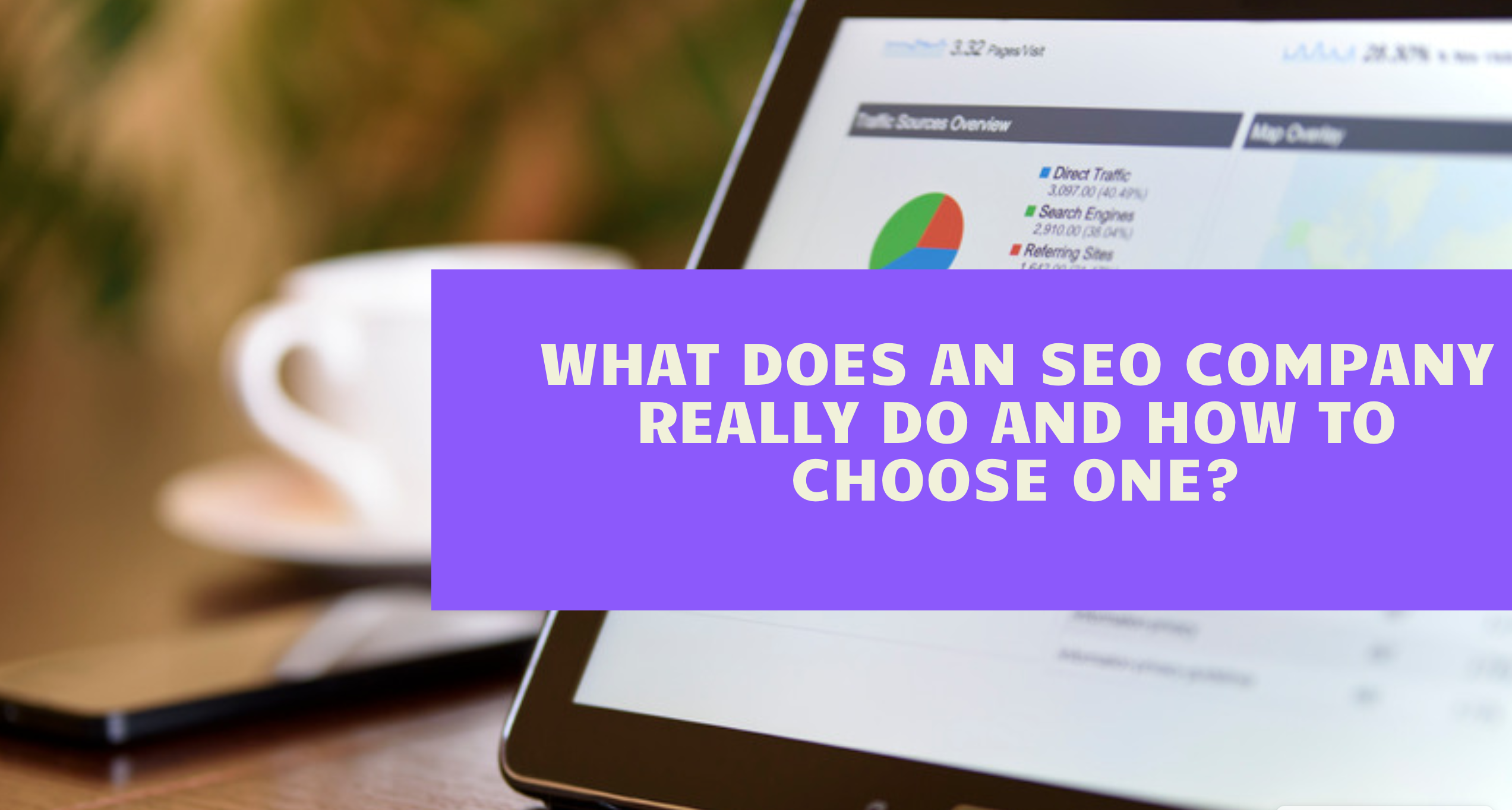 This is a common question which most business owners have when they are searching for SEO services provider for their website. They would like to know what really happens behind the screen of an SEO company, what are the monthly activities they do and how can SEO company really help them succeed. We will answer all these questions one by one. Before we see what SEO company do let us first understand how SEO works and what is SEO?. 
What is SEO? 

Search Engine Optimization (SEO) first came into existence about twenty years back in the early 2000s. As of 2019 SEO revolves pretty much around google as its the most used search engine. SEO is considered as an art and science because it involves improving technical website issues, long with producing good content for your business and UX/UI Design.  SEO is the process of getting quality visitors to your website by increasing traffic and helping in get more leads, sales, customer acquisitions and reach your business goals. 
Why SEO is Important? 
Google earns more than $100 billion every year from AdWords and its advertising networks. Adwords is just 30% of the total search results, the remaining 60% plus results are pure organic results, we can estimate how big these 60% results will be worth. We can rank on these positions if we understand SEO or hire a good SEO company to help you rank well on google. 93% of all the purchases globally start with online research. SEO plays a very important role in convincing consumers to buy products/ services from your company. Unlike Adwords where big companies dominate higher positions, using seo you can rank above bigger competitors if you have what it takes to implement a good SEO strategy.
How Do Search engines work? 
Google and other search engines have web crawlers, which will crawl all the websites available on www and store them in their servers in a structured format called the index. Google's web crawler is called Googlebot.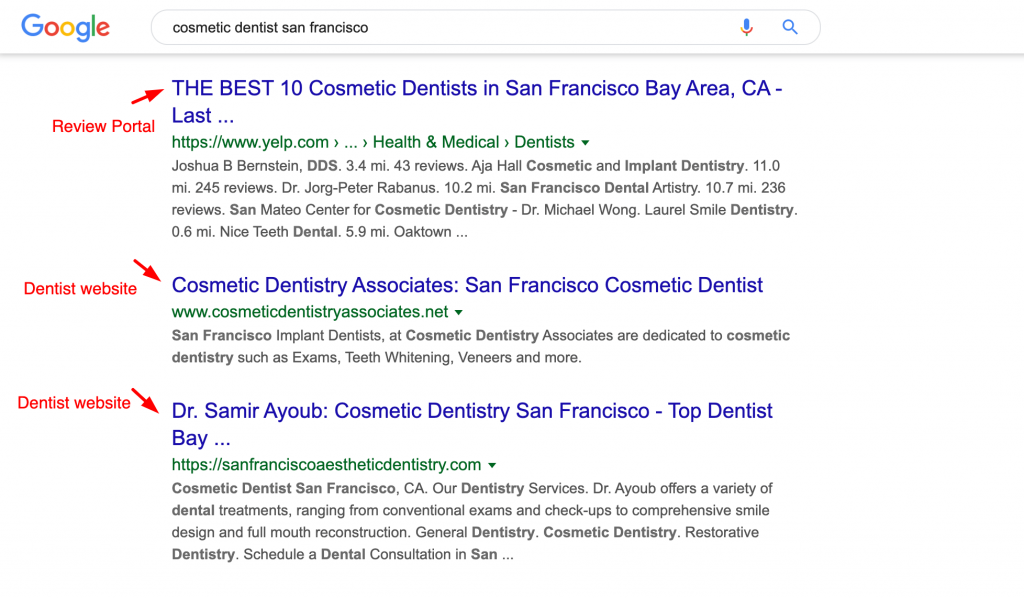 Let me explain with an example above a person searching for a cosmetic dentist in san francisco. Once that person types in the keyword in search bar " cosmetic dentist san francisco "  google will search for the most relevant websites which has this information and which is based in san francisco. Google will get back with many results first one being the Yelp website which has reviews about cosmetic dentists, the second one is a dentist website who is practicing dentistry in san francisco area cosmeticdentistryassociates.net  and third one sanfranciscoaestheticdentistry.com which is also a dentist website.
When a search is performed google considers content relevancy, location, language, website age, device from which the person is searching etc and then give search results which will help serve the intent of the person who has searched the query. Google has hired the brightest minds around the world who work on building algorithms that serve the purpose of its search engine users. SEO is an integral and most important part of digital marketing.  As the market share of digital marketing increase so does SEO and its future.
Now let's see
What Does an SEO Company really Do?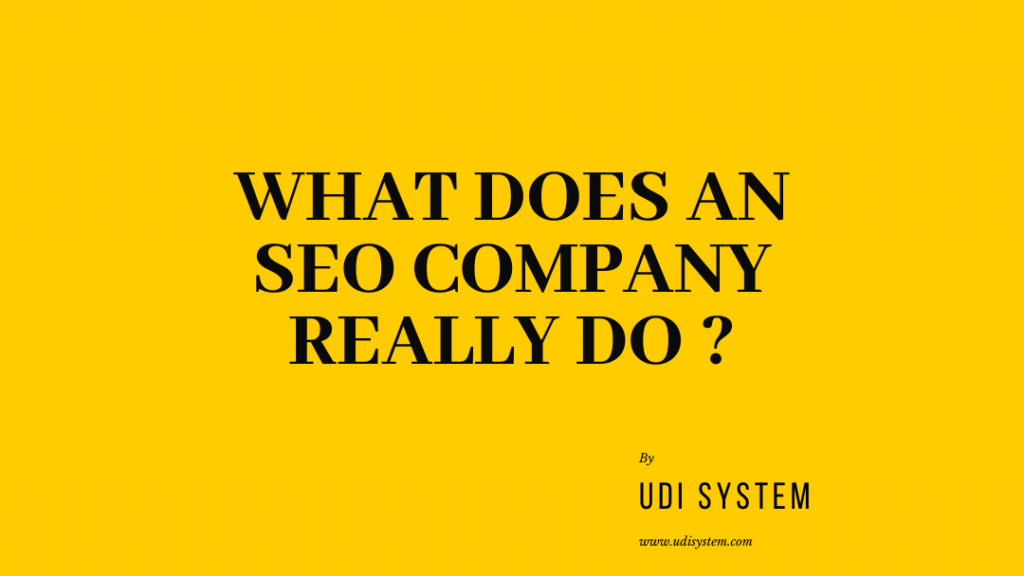 There many things an SEO Company does on a monthly basis when they signup a client. It is very important for clients to understand what are the SEO activities and what support is required from the client's side to make an SEO campaign successful. Below are some common activities which normally exist in a good SEO company.
SEO Audit 
This is the initial phase of SEO campaign where SEO companies try to understand what is the current status of a client's website. SEO consultants normally use SEO audit tools followed by manual analysis of these reports combined with their expertise. Some of the findings of these SEO audits will be as below:-
Website Site Structure – If the website structure is search engine friendly or not.  If some or all the pages of the website are not crawlable by search engines what is the reason for it, what is blocking search engines and how can it be fixed.
Competitive Gap Analysis –  We analyze main competitors, how their websites are built, how many number of backlinks they have, how much content they have, their social media activities etc.
Website Speed issues – If the website is loading fast or slow? what is the reason if its loading slow and how can it be fixed.
Interlinks Structure – If the website is having a  proper linking structure or not. If the navigational links are user-friendly or not, what needs to be done to fix it.
Broken Links – If there are any broken links on the website, if yes then it's documented. After analysis, we need to report this to clients.
Backlink Audit [ External Links ] – How many links are pointing towards the client's website. Whether the quality of backlinks is good, or it's bad/spamming. If they are good how to retain them if they are not what needs to be done to suppress bad links, most of this is covered in the backlink audit part.
Content Audit – Whether the content present on the website is relevant to the client's business. Whether content is fresh and unique or not. If content is copied we need to redo the content as unique content is very important.
Audit Reporting – Detailed reporting on all the findings from the above points with suggestions and recommendations for improvements.
Once SEO Audit is complete SEO companies with discussing with clients about the current status of their website their shortcoming and a roadmap for the next few months. The initial phase of SEO campaign is complete with an SEO Audit.

Now let's see below which are the next steps involved in SEO campaign in detail below
On-page SEO and Website Structure 
In this phase, all the technical shortcoming of SEO audit is addressed. Below are some of the best practices to be followed for On-page SEO.
Title, Meta Description, Keywords – We need to add relevant and unique title and meta description for all the pages of the website, this needs to be in relevancy with its content. Duplicate titles and meta tags must be avoided.
H1 tags – H1 is the most important tag which will help in SEO, we need to add the most important keyword for which the client wants to rank in this tag. This needs to be present only once on a page.
URL Optimization – URL's used on the website needs to be SEO friendly and contain keywords in them. SEO friendly URL structure will look something like www.website.com/your-keyword. We need to restructure if URL's are not optimized.
Responsive Website – The website needs to be completely responsive to different types of screens. If this is addressed in development itself then it's better, changing after development will be tedious. We need to test the website across all the devices and check for compatibility issues.
Image Optimization – All the images used on the sites need to be optimized for size and their tags need to optimized with relevant keywords.
HTTPS –  We need to used security certificates SSL for google to understand that our website is secure to our visitors. Non-secure Http sites are not ranking well from late 2018.
Sitemap – We need to have an XML sitemap on our website to keep google and other search engines understand and index all the pages on your website.
Schema Markup – We need to add schema tags on your website for Google to understand what our web pages are about and show them in search results. Its a piece of code. CMS like WordPress has the schema inbuilt with them.
Website Speed Issues – Websites need to be analyzed on how fast they load when a user opens it on their browser. We use tools like GTMetrix and Google site speed primarily.
Content – All the pages of the website should have unique content. The minimum word count needs to be around 300 to 350 to get optimal results.  We need to use targeted keywords as high as possible on the web page as it benefits the SEO. Direct response copywriting style is better as it persuades website visitors to perform actions like filling inquiry form or clicking on other call to action buttons.
Keyword Analysis – We need to properly analyze the business keywords which will get us maximum returns and there should be a good number of people searching for these keywords on google on a monthly basis.
Interlinking strategies – We need to have an interlinking strategy in place to connect all the pages of the website efficiently. We need to connect service and product pages effectively for users to navigate within the website. This will also help search engines crawl our website regularly.
Off-page SEO and Link Building Activities 
Since we have understood what SEO companies normally do On-page of websites now let's understand what happens Off-page in SEO.
Link Building – We need to have strong link building strategy in place as google ranks website based on the quality of backlinks it has and its relevancy. We need to build links from websites that are authoritative and which are non-spammy. This is a monthly activity. Link building has been always an area which if done correctly will help us beat our competitors effectively else it can easily harm our website's ranking on google.
Blogging – We need to regularly produce content on the client's official blogs and other blogs in the client's business sector. This process of posting on popular blogs is known as Guest posting. This is slightly difficult but it has its own advantages as we get lot of traffic from popular blogs and one or two links coming back to the clients site will also help in client google ranking. This is also a monthly activity.
Social Media – We need to be as active on the client's social profiles, as social is a very important part of the web today and it has a lot of influence on google ranking popular content which has good shares and likes on social media sites. This is also a monthly activity.
Email Marketing – Even though email marketing is old but it has the maximum impact among all the digital marketing channels. The conversion rate of email marketing is highed about4%.  It's very important to collect website visitor's email in lists using marketing tools like mail chimp, constant contact etc and send them marketing/ promotional newsletters on a weekly and monthly basis.
Outreach –  Building relationships with other websites and blog owners will help us promote the client and their other web properties very effectively. We can use tools like buzzsumo etc for outreach activities. This is also a monthly activity.
Conversion Rate Optimization – We use strategies to monitor how the visitors are behaving on your website, whether they are understanding the intent of landing pages,  whether the call to actions are persuading visitors to enquire or not and based on that website is further optimized.  This is an ongoing process on a monthly basis.
Influencer marketing – We can approach influencers in client's business niche as this will help reach the client's target audiences faster and more effectively. We can either contact these influencers manually or through influencer marketing platforms.
Both the above-mentioned On-page and Off-page activities are performed on a monthly basis. These activities are reviewed for the performance and based on the output they are improvised and reimplemented.

How to Choose a good SEO Company for your business? 
There are tons of SEO consultants and SEO companies that are in the market, so how do we choose which of them is better and who can deliver to your specific SEO needs. Below we have some tips to choose an SEO Company.
Past Performance: The first main criterion while selecting an SEO company is their past performance with their existing clients. How they have served their past clients, their case studies based on activities performed, KPI [ Key performance indicator graphs ], ROI metrics, etc.
Service Sector: It's very difficult for SEO companies to have worked in all sectors. So its important to choose an SEO agency that has experience in your sector, for example, like if you're a dentist its very important for an SEO agency to have worked on the dentist earlier because it will help them understand major players in your sectors, important forums blogs etc.
Local SEO /National SEO / International SEO: It's very important for you to know whether you need Local SEO – promote your website locally, or if you need National SEO where you will promote your website at the national level or if you need international SEO where your website needs to rank across multiple countries. Based on these needs you need to select a company which is good at what you need.
Budget: There are many SEO companies who have just a 2 – 4 person team and there are some who have more than 100 people in their team. Based on team size and expertise each SEO company has its own starting slab to take up projects, just see which of these companies meets your budget.
How not to select an SEO Company for your business? 
As we have seen above on how to choose an SEO company for your business now let's see how not to choose an SEO company.
Review/Toplist Sites: Don't use review sites or Toplist sites because most of them are biased. Since Google loves reviews, these sites rank higher when you search for best SEO companies or top 10 SEO companies but the fact is most of these sites display listing based on who pays them more. Even if a company is new and they buy listing from the review sites they get sponsored on top. So avoid these sites.
No 1 SEO ranking guarantee: If an SEO company is promoting themselves that they can help you rank on #1 position on google then try avoiding them. No company in the world can assure #1 position as google algorithm keeps on changing. Ranking in top 3 or ranking in Top 10 is a more realist way of an ideal SEO agency.
Black Hat Method:  If some companies say they have grey and black hat methods and they can fool google avoid them. It's a fake company.
Immediate Results: If some companies say they can rank you overnight or within a few days or weeks avoid them as SEO is a process related to time. At least 2 to 3 months is required for any good SEO agency to show you results.
Conclusion: We have explained in detail what does an SEO company does and how to choose a good SEO company. If your a business and you need help with SEO Services and WordPress development services pls connect with us. We have 9+ years of experience in providing result-oriented SEO services.
---
October - 21, 2019
|
Edited by: Madhukar SV (Digital Consultant)
---