Data highlighter! How Useful in Click-Through-Rate CTR?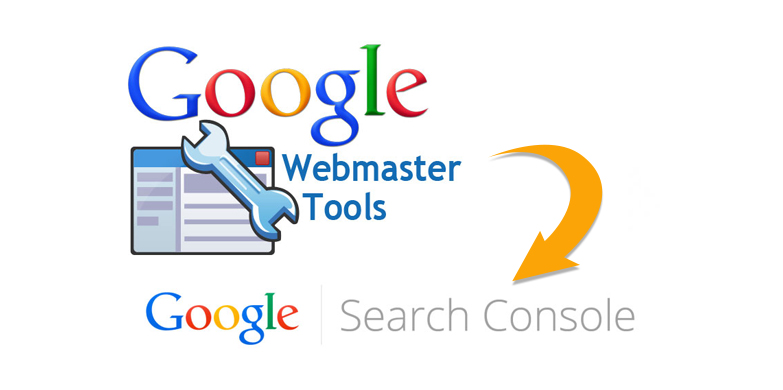 What is Data highlighter tool?
Data Highlighter is a webmaster tool, which is used to teach Google about the event-related data on your website. Using Data Highlighter is very easy and you can simply tag the data fields or events on your site by simply using a mouse. After extracting the data using the data highlighter tool, Google displays your data more attractively on related Search Engine Results Page with various rich snippets.
You can clearly see how Data Highlighter works for the events on your site and how Google crawls through your site in the below example. The event data will be available for rich snippets on search results pages.
About Data Highlighter's event
Data Highlighter always extracts data about events, such as theater arts, concert, magician programmers, exhibition, etc. After extracting data, Google will display in the form rich snippets which look very attractive at related Search Engine Results.
For a single event Google display's rich snippet

If the page describes multiple events, then Google display rich snippet as follows:

Google Knowledge Graph
The Data Highlighter tool, not only showcases rich snippets using your web pages, it also displays results based on the map. Here one can find "Bangalore", Google has named it as Google Knowledge Graph. In Google Knowledge Graph, Google displays all types of events and information about the city.
An example of how the extracted data are displayed on Google Knowledge Graph is given below.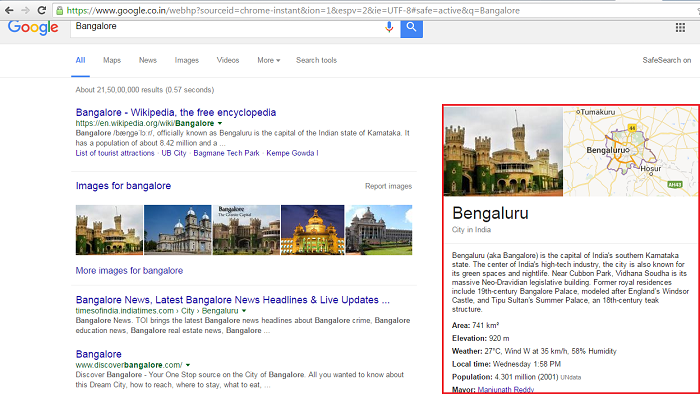 So, how to use Data Highlighter?
Login to Webmasters tool dashboard and verify your site.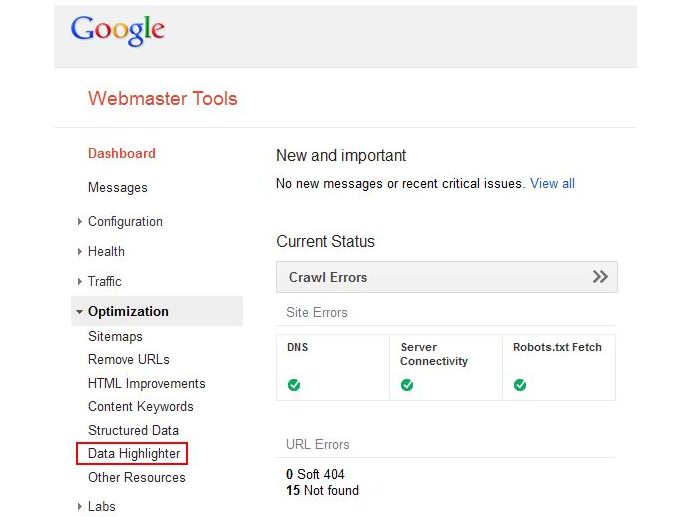 Click Optimization on the Dashboard.
Click Data Highlighter
Identify the page
Click Start Highlighting
Enter URL of the page.  All the pages in a page set should have the same domain as the verified site. That is, if you hit it off www.example.com on the Webmaster Tools home page, then the URL for Data
Highlighter should also start with www.example.com.
Indicate the type of data that should be extracted.
Click Tag just this page
Click OK.
Tag specific information to indicate to Data Highlighter how the page displays data
Select an image or text on the tagger page
Click the type of data you have selected on the pop-up menu which appears. For example, it is a name, you can click Name
My Data Items shows the tagged data and this can be used to check the data you have tagged. If you see alert icons, then click the data next to the icon. If a name is displayed, click on it to review the tagging. The following step can be followed
For incorrect tags, click X next to the data to re-tag
For correct tags, click the alert icon and click Clear Warning.
Click Done.
Tagging dates:
It is important to tag dates using the Data Highlighter tool as the event will be displayed on Search Engine Results as rich snippets based on the dates.
How to Tag Dates?
Start by tagging data on a single page or multiple pages. To then tag dates use the following instructions below.
Select a date on the page. For Example May 3, 2013
Click on Date > Date/time or range on the context menu.
Note:  Tag all the dates on a page set to get good Search Engine Results.
Conclusion:
Data Highlighter is mainly used to display events in the form of rich snippets in Google Search Engine Results. This tool extracts data which may contain events, dates, celebrities, sports, etc. on a particular page or multiple pages and will display it in Search Engine Results. It gives a rich and attractive look on Search Engine Results Page and contributes in increasing the Click-Through-Rate (CTR). Being very easy to access and use, Data Highlighter is the most preferred tool to increase Click-Through-Rate (CTR).
---
February - 28, 2018
|
Edited by: Madhukar SV (Digital Consultant)
---